Talking all things coffee in this sponsored post, especially the scoop about how you can find Community Coffee at Sam's Club (and there's a giveaway too – 10 winners)!
How do you like your coffee?
In my case, the apple falls FAR from the tree.
I grew up smelling coffee every weekend morning, and if it's one thing I knew, it's that my dad liked his coffee black.
I didn't try coffee, though I always LOVED the aroma, until I was an adult pulling all-nighters while studying for exams. I quickly learned that black coffee wasn't for me. Whether it's milk, almond milk, or creamer, I NEED something in my cup alongside the coffee. Then I'm happy, and awake. Did I mention awake?
Community Coffee at Sam's Club
Did you know that you can now find Community Coffee at Sam's Club stores and online?
When we buy coffee, we tend to buy in bulk, especially since it's K-Cups which we primarily buy (though I admit the pantry is stocked with bags as well). We buy big boxes of K-Cups and we buy them at Sam's Club, so when I discovered Community Coffee there during my recent trip, I was giddy! I love the Breakfast Blend flavor and my husband prefers Dark Roast. Guess what? Sam's Club had both of them in stock (in bulk) – score!
Don't worry! If you are a traditional coffee bag purchaser, you can find large 40 oz bags of Community Coffee blends at Sam's Club too.
The deals are incredible (especially if you are not used to buying coffee in bulk. If you are a coffee drinker, you will want to check out the deals here! Don't forget to take advantage of Club Pickup – where you can order online and they'll have everything ready and waiting for you!
Check out the Community Coffee K-Cups box I just purchased – it comes with the opportunity to receive 500 Southwest Rapid Rewards bonus points with Southwest Airlines.
Be sure to look for specially marked boxes!
Giveaway Time:
Up for grabs are 10 Sam's Club Membership Gift Cards! Just what you need to take advantage of these great prices on Community Coffee products!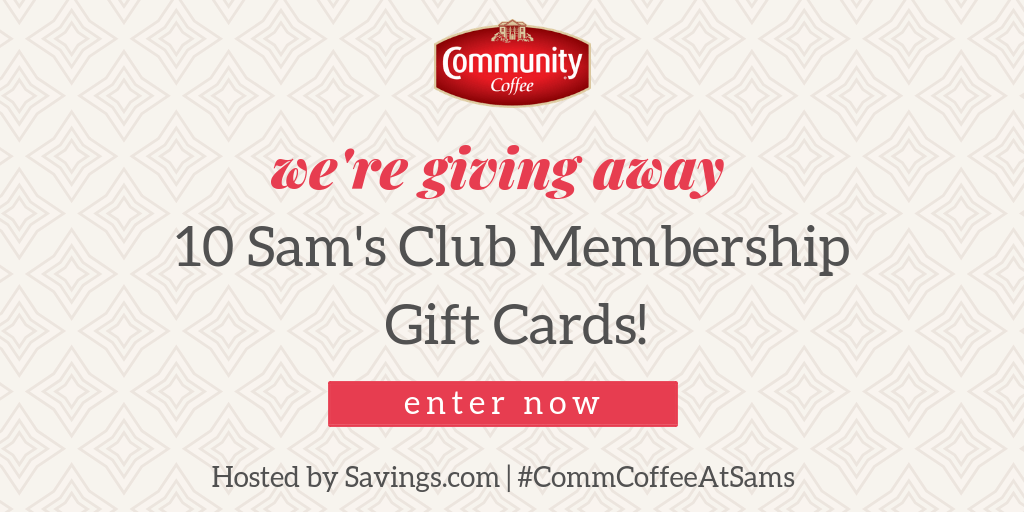 Enter to win one of 10 Sam's Club Gift of Membership gift cards.
Ten (10) winners will receive a $45 Sam's Club Membership gift card.
Note: Giveaway ends on Tuesday, September 25th at 11:59 PM ET
Are you a Blogger? Join me as a blogger who works with Savings.com