Welcome to the Gifts for the Home gift ideas section of our 2021 Holiday Gift Guide. Be sure to visit all the other categories in our guide.
(Gift Guide – sponsored. Affiliate links may be in post, where a commission may be earned for any purchases made at no cost to you.)
Gifts For The Home
The Sixth Project
As an avid traveler I couldn't be more excited about the fully customizable map art from The Sixth Project.
Map art is such a creative idea and would make a thoughtful gift to loved ones, commemorating special moments or places which are meaningful. Think about the places that hold importance – where you first met, where you got engaged, where you got married, where you honeymooned, where you bought your first house as a family, where your child was born, or your first overseas trip.
Each piece of art is unique to your memories (or those of whom you are gifting it to.) It would make a beautiful gift to your parents, newlyweds, or even siblings, but honestly, I'd gift one to my spouse just so I could display it in my home.
Each piece of art you customize is available in a variety of sizes to fit any wall. They are available in either canvas (which I personally love) or frames, with the frames being high quality, handmade ones that come with a lightweight, shatterproof transparent plexiglass for protection.
A gift of map art will be something to treasure forever.
SHOP: Map Your Life or their Illustration Art.
Loom & Table
This holiday season, look no further than Loom & Table for top quality linens. From Thanksgiving dinner to Christmas brunch, and let's not forget New Year's Eve, there's nothing more festive than a beautifully decorated table.
It starts with the linens – the tablecloths, the napkins, and the runners.
Whether you are planning your own holiday table, shopping for a gift for your sister, or want to impress the Christmas party hostess, you'll want to check out the durable linens that Loom & Table once only provided to top-tier hotels, resorts, and restaurants.
Loom & Table use the finest craftsmanship and fibers, like premium polyester and cotton-polyester blends, to create table linens that are made to last. That's important, because I know first hand how table linens are often passed down from generation to generation.
You'll find a wide variety of colors, designs, and sizes. Best of all, the linens are machine washable. No dry cleaning – YES!
TIP: In addition to standard sizing, you can use their easy-to-use online sizing tool which eliminates the hassles of visiting a fabric store or seamstress.
SHOP:  LoomandTable.com
Celebrimo
What do you get the person who has everything?
That's where Celebrimo comes in. After all, can you ever really have too many mugs and wine glasses? Especially when they are as cute and clever as these! Celebrimo offers a gorgeous range of mugs and stemless wine glasses that are perfect gifts for celebrating the special people, events, and occasions in your life.
Supporting local businesses is always important, and all Celebrimo products are made right here in the USA. Celebrimo's thick, scratch-resistant, high-quality ceramics and Libbey glasses prove that high-quality people deserve high-quality gifts.
What makes Celebrimo special? The designs are printed with top of the line ceramic inks, giving each glass a beautiful and vibrant look that is permanent and dishwasher safe! You won't have to worry about the words coming off after only a few washes. Your love for your favorite person will be timeless.
Whether you are looking for a sentimental gift for your bestie, something to say thank you to that special teacher, a motivational affirmation or a thoughtful reminder of your love for a partner, Celebrimo has a mug for it. I might have just found mine – see above! Ha – "Thou Shall Not Try Me – MOOD 24/7."
PROMO CODE: Thanks to Celebrimo, they've offered us a special coupon code for 15% off your purchase. Use code: DEBRACB15
SHOP: Find on Amazon – the coupon code works at checkout!
Elegear Faux Fur Sherpa Throw Blanket
Available in four different colors (blue, brown, dark gray, and pink,) Elegear's Faux Fur Sherpa Throw Blanket is the perfect addition to your home or the home of a loved one, teacher, or best friend. Whether it's used for warmth in the bedroom or for a splash of color in the living room or study, it's a beautiful and comfortable blanket. You can never have too many blankets, but this might just be your new favorite!
The front of the blanket is made of faux fur fabric while the back is made of quality sherpa fabric, so you'll be warm whichever way the blanket is turned. It's even animal friendly and shed-free too.
With a weight of 310+200GSM you'll love that it's not only machine-washable but it tumbles dry too!
PROMO CODE: Save an additional 10% off with code LUE4YC3Z (expires 10-30-2022)
SHOP: Find on Amazon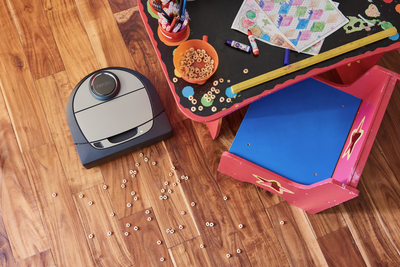 Neato Robot Vacuums
If you've been following me on social media, you might have seen we have a new addition to the family – a dog! So you can imagine that I might be in the market for a vacuum. Not just any vacuum, but a robot vacuum, which I've never owned before. I'm vacuuming more than ever and I'd like to get a break from it. 🙂 Enter Neato Robot Vacuums.
With 24/7 customer support and 30 day risk-free trial, I think it's worth a try and my back will be incredibly pleased.
One thing that I've discovered as I'm doing some research is that Neato Robot Vacuums respect your privacy. They say, "unlike camera-based robot vacuums, Neato does not capture images or videos of our users, their homes, or their belongings. We also don't have microphones on board our robots and don't record audio. We have world class encryption both on board our products and in the cloud and we never share or sell user data." I like the sound of that.
Best of all, right now they have a promo code for free shipping and through December 11th have discounts on several models.
I'm looking at the Neato D10 Intelligent Robot Vacuum as it's made for larger homes, has a true HEPA filter, and runs for approx 300 minutes.
FREE SHIPPING:  Save on free shipping with code FREESHIP on all orders from 10/24/21 – 1/2/22.
DEALS THRU Dec 11th:
Save $250 On the Neato D8 Robot Vacuum from 11/26 – 12/11. No code necessary.
Save $200 On the Neato D9 Robot Vacuum from 11/28 – 12/11. No code necessary..
Save $100 On the Neato D10 Robot Vacuum from 11/28 – 12/11. No code necessary.
SHOP: Find on NeatoRobotics.com
YOU WILL ALSO LOVE: