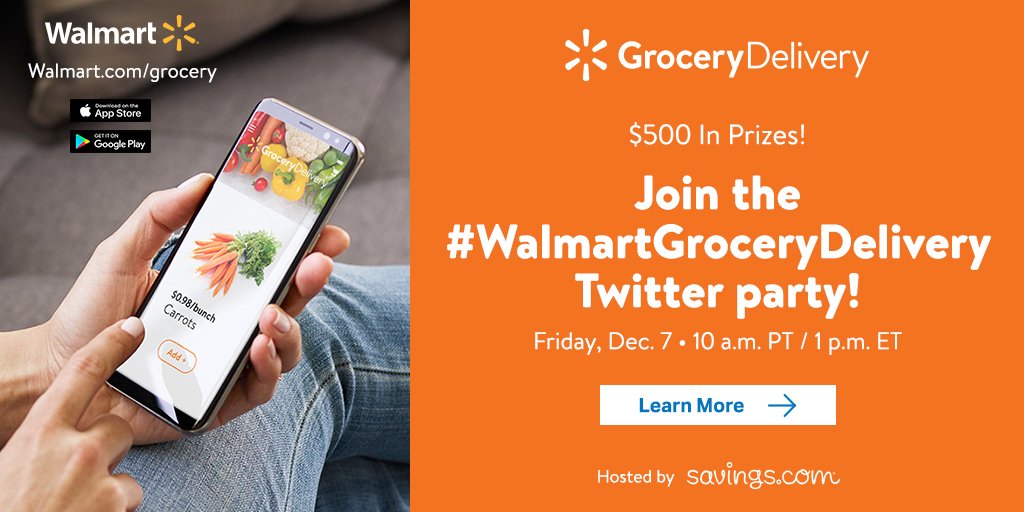 Does your local Walmart deliver groceries? Mine does and it is revolutionary. It's so incredible that I was thrilled when asked to co-host the Walmart Grocery Delivery Twitter Party this Friday and sponsor this post!
We'll be tweeting about Walmart and all the ways that grocery delivery makes people's lives easier. One of the times I could have used this most was when I broke my foot, but it doesn't have to be that dramatic. There are so many times when it just would save me so much time as a busy mom.
You can learn more about the service now (no need to wait until the party, though I hope you join us – there are prizes to be awarded).
In fact, I have a deal for you to take advantage of the Walmart Grocery Delivery service NOW:
Get Your First Three Grocery Deliveries Free – shop and take advantage!
Promo Code: DISCOVER
Available in select areas.
Expires: 1/31/19
Oh, and there's more too. In addition to the twitter party, I've got another gift giveaway to talk about! Keep reading!
Walmart Grocery Delivery Twitter Party Details
Join us on Friday, December 7th, 2018 at 10AM PT/1PM ET for the #WalmartGroceryDelivery Twitter party!
$500 in prizes! Be sure to follow all the hosts now while you have some extra time.
Hosts: @MomsWhoSave, @katbalogger, @ssavvyliving,@TheSamiCone, @FindingDebra2, and @savings.
Hashtag: #WalmartGroceryDelivery & #WalmartWIN
Prizes: (6) $25 gift cards, (2) $50 gift cards, (1) $100 gift card, and (1) $150 gift card grand prize.
Enter to win 1 of 10 Gift Cards
In addition to your chance to win during the Twitter party, enter to win 1 of 10 gift cards here (Hurry, ends Friday night! All entries must be received no later than 11:59:59 p.m. (EST) on December 7, 2018!
See you soon!